Hello Secret Community!
May was packed full of exciting things for the network, from mainnet upgrades to legendary director/actor/writer Kevin Smith joining Secret Network to mint the first full-length film as an NFT. Keep reading to learn about Secret's busy May!
Shockwave Alpha Launches on Secret Network
Secret Network's first mainnet upgrade since Supernova was launched in early May, and we're already seeing some great results:
Our Shockwave phase is all about explosive growth, and these network improvements help us achieve that goal. Check out our blog to read more about Shockwave Alpha's impact.
We mentioned that Shockwave Alpha's release slightly changes how we've previously conducted network upgrades, with the goal being a shorter yet more frequent upgrade cycle. This is already proving to be true with our latest release! Secret Network v1.3.1 is out, thanks to SCRT Labs.
⚡️ Nodes utilize all available cores for serving queries
🐳 Docker image available with automatic node registration & state sync
🚀 Mempool optimizations (recommended for validators!)
The second and final phase of Shockwave Omega is already being designed, so stay tuned for more updates!
Kevin Smith's NFT Drop and Interview
If you haven't heard the secret, Kevin Smith's latest film "KillRoy Was Here" is being released on Secret Network! With this release, Kevin is leveraging the unique power of Secret NFTs (including private metadata) in a way we hope many more artists and creators will emulate in the future.
Secret Foundation's Tom Clark interviewed Kevin Smith as part of our lead-up to Blockchain Festival Week in Austin. Kevin and Tom discussed the events happening in Austin, the "KillRoy Was Here" NFT drop, and some awesome details about the making of the movie.
If you're curious about the making of "KillRoy" and Kevin's involvement with Secret Network, this is a must-see interview! There might even be some more possible alpha drops about new projects on Secret and Legendao 👀
Remember, picking up your own "KillRoy Was Here" NFT gives you:
Anytime access to watch the full-length film
Behind the scenes footage
Exclusive directors commentary
IP rights to your own "KillRoy Was Here" PFP
Kevin will join us in Austin next week for a couple of events, so keep reading to learn more!
Secret Heads to Austin Blockchain Week
We're a week away from Austin Blockchain Week, and we're excited to let you know all the cool things planned for our time in Austin. Secret will be on the ground in Austin starting June 6th, and we'll be attending conferences and satellite events through the weekend.
Whether you'll be in Austin or are just interested in keeping tabs on our teams and community, make sure to check our Twitter feed frequently!
Here's just some of what we have planned for that week:

DCENTRAL
SCRT Labs, Legendao, Secret Foundation, and many more teams from our ecosystem will be represented well at DCENTRAL. Secret Network is a primary sponsor for the convention, and we'll be front and center during the entire event. We're excited to tell the entire world about Secret, but right now, we'll settle for telling everyone at DCENTRAL! This includes speeches from several prominent network contributors!
Guy Zyskind and Tor Bair will spread the word about Secret Network and what makes us primed to be THE privacy hub for Web3, and Shade's Carter Woetzel will be speaking about Shade Protocol, Silk, and algorithmic stablecoins.
Don't keep yourself a secret! We'll have a booth staffed throughout the conference, so be sure to stop by and say hi. There might also be a secret mission for our agents in Austin. Keep an eye on our Twitter feed for that announcement 👀 🤫
Kevin Smith Parties with Secret
On June 8th, Secret will be hosting a party in Austin to celebrate the upcoming release of "KillRoy Was Here," the first full-length film minted as an NFT, and Director/Writer/Actor Kevin Smith will be there to celebrate with us!
This event is your once-in-a-lifetime chance to party with a legend while welcoming him into the Secret Network community. So come out and show Kevin some love! Here's where you can grab tickets: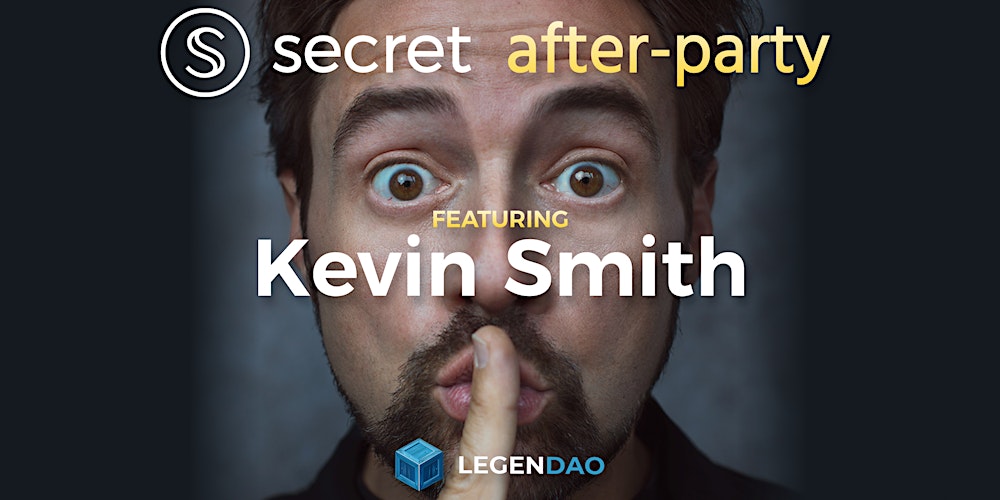 Before general admission, there will be a special VIP Q&A session for holders of the "KillRoy Was Here" Premiere NFTs! General admission will follow this session. So if you're in Austin, don't miss out on what should be a fantastic night!
Consensus 2022
To close off the week, Tor Bair of Secret Foundation will speak Saturday June 11th on the challenge of building and adopting Web3 privacy technologies as part of Consensus 2022 - one of the largest blockchain festivals of the year. Make sure to catch him and many members of the SCRT Labs team (including CEO and founder Guy Zyskind) on site!
SCRT Available on KuCoin
SCRT is now listed on Kucoin! As of May 25th, Secret started to be traded on the exchange using a BTC-SCRT pair.
Kucoin also put a 25,000 SCRT reward pool up for grabs to celebrate this new listing! There were various ways to get in on this giveaway. Check out KuCoin's announcement to learn more!
Our Shockwave growth phase is all about expansion and global availability. This exchange listing helps fulfill that vision by making SCRT even easier to acquire so you can begin using Secret Apps, staking your secrets, and more!
Stashh Announces Upcoming Release of Secret Badges
After months of work, Stashh announced the much-anticipated release of Secret Badges!
According to Stashh:
"Because they are secret and privacy-preserving by default, sBadges are much more powerful than NFTs on other blockchains. sBadges are private by default and contain public or private metadata, depending on what the creator chooses! Gone are the days of unwanted eyes peeping into your NFT gallery. With Secret, you can have complete control over who sees your NFTs and sBadges."
Read this article if you're interested in grabbing or creating your first sBadge!
Coingecko Interview with Guy Zyskind
Watch Secret Network Founder/SCRT Labs CEO Guy Zyskind talk with CoinGecko about all things Secret Network and privacy, including the Shockwave Alpha upgrade!
Listen here or watch on Youtube.
The Secret is Out on Instagram!  

In case you missed it, Secret Network has relaunched on Instagram! We've posted several clips, including some from the Kevin Smith interview. We have too much excellent visual content that we want to share with our community, so keep an eye on our IG. We'll be posting tons of graphics, guides, and maybe even some secrets.
---
That's just some of our most exciting recent secrets - with many more to come. We can't wait to update you on upcoming mainnet upgrades, tooling improvements, Secret App developments, NFT launches, and so much more!
If you're a developer, read through our latest announcements about the new $225M Secret Ecosystem Fund, which contains details on connecting with the SCRT Labs team and the rest of our developer ecosystem. Additionally, check out Secret Network grants and get started building today!
If you're passionate about ensuring Web3 users have the data privacy protections they need and deserve, become a Secret Agent. Our mission is to make sure the decentralized web we're building empowers - and one that is accessible - to all.
To discuss Secret Network and Secret Apps, visit our community channels: