Hello Secret Community!
Take a look back with us at a jam-packed July that was full of exciting news and releases. From announcing multiple new partnerships, to Kevin Smith and Legendao finally releasing the eagerly awaited "KillRoy Was Here" NFT, there are many exciting things to recap. Keep reading to learn about Secret's busy July!
KillRoy NFT Mint by Kevin Smith and Legendao
On July 12th, the much anticipated "KillRoy Was Here" NFT mint by Kevin Smith and Legendao finally arrived and went off without a hitch! Using their Secret NFT, users can decrypt and access this never-before-seen movie anthology.
"KillRoy Was Here" is the first full-length film released and distributed as an NFT. July 12th was mint day, so to celebrate, Kevin Smith joined SCRT Labs CEO Guy Zyskind for an extended Secret Spaces! And of course, as is now the trend, we gave away an exceptional Secret Badge commemorating the KillRoy mint.

No one was surprised by how good "KillRoy" was, but what was surprising was the seamless experience that incorporates the ease of Web2 streaming, all powered by Web3 tech and Secret Network. We'll have a new blog post soon outlining more technical details on how the Legendao team accomplished this feat. Who knows? By this time next year, we might see Secret Studios...
KillRoy NFTs aren't just any boring collectible - each comes with a set of perks and real utility. A KillRoy Was Here PFP provides the following benefits to collectors:
1 KillRoy Was Here PFP
Access to the KillRoy Was Here full-length feature film
A movie script signed by Kevin Smith
1 of 45 different comic videos
Creative rights to each PFP, including the intellectual property rights
Participation and opportunity within the KillRoy Was Here creative community
If you missed the mint date, don't worry! Some "KillRoy" NFTs are still available for mint.
Special thanks to legendary director/actor/writer Kevin Smith who actively embraced our community and took a big chance by releasing the first full-length film as an NFT!
Secret Partners with Axelar
Secret announced a new strategic partnership with Axelar, a universal overlay network that increases interoperability between decentralized networks.
Axelar delivers secure cross-chain communication for Web3. Its infrastructure enables dApp users to interact with any asset or application, on any chain, with one click. As an overlay network, Axelar delivers Turing-complete message passing via proof-of-stake and permissionless protocols. In addition, developers use Axelar to go beyond bridges, creating dApps that securely integrate users, functions, and assets across all of Web3.
How will this partnership help Secret?
With Axelar already connected to Ethereum, Polygon, Avalanche, Moonbeam, Fantom, and a handful of IBC blockchains, this new integration with Secret will bring something new to the table for all - privacy.
Axelar's Secret Feature describes that Secret will allow Axelar-connected applications to send private messages between siloed blockchains. Potential cross-chain use cases include providing front-running resistant swaps, private NFT trading, and private voting for DAOs! Secret brings privacy to the party, and Axelar ensures that privacy can be extended across other connected networks!
To learn more, be sure to give a listen to Axelar's appearance on Secret Spaces.
ALTER Launches Stake-to-Access
July was a huge month for ALTER as they released the beta version of their new feature, Stake-to-Access.
ALTER is a private and secure messaging platform utilizing Secret Network's private smart contracts and cryptography to give users ownership over their encryption keys. Next-generation Web3 platforms like ALTER featuring these privacy-preserving capabilities can only be built on Secret Network. In an era where privacy isn't guaranteed, ALTER provides peace of mind that only secure communications can provide.
Earlier this month, a select number of users were permitted to join the Stake-to-Access beta, allowing users with at least ten SCRT staked with ANY validator to test out ALTER's decentralized messaging platform. To learn all the beta release details, read this ALTER Secret Feature.
How does Stake-to-Access Work?
Stake 10 $SCRT with any Secret Network validator
Sign up for ALTER using your Keplr wallet
Keplr will verify that you have 10 $SCRT staked
Gain access and start using ALTER
Check out ALTER's appearance on Secret Spaces to learn about Stake-to-Access and ALTER's future plans.
Based on the success of the beta, Stake-to-Access officially launched for all users in late July, and so far has been a great success. If you're already staking 10 $SCRT with any network validator, click here to register and join ALTER!
Serenity Shield Reveal
Two projects united by their pursuit of individual digital freedom are joining forces! Serenity Shield, an innovative digital storage solution with data privacy by default, allowing you to store your most sensitive information securely, announced their intention to incorporate Secret Network's privacy-preserving capabilities.
Serenity Shield's solution intends to provide optimum digital security for passing critical information between individuals, companies, or whomever else requires reliable protection. So what can Serenity Shield and Secret protect? Essential pieces of sensitive data, including seed phrases and passwords.
How does Serenity Shield intend to make this goal a reality? By utilizing Secret's privacy-preserving layer to ensure maximum data privacy! Serenity has already used Secret's technology to build encryption for NFTs, but the privacy-preserving use cases are virtually unlimited. To learn more about this collaboration, read Serenity Shield's blog.
New Secret Tokens Revealed
Earlier this month, Secret introduced several new tokens, allowing other networks to turn their tokens into a wrapped version on Secret Network. Now, users from Gravity Bridge, Juno, Terra, and Stargaze can bridge their assets into Secret Network, instantly providing Secret's privacy-preserving technology to users within these other ecosystems!
Users that bridge their tokens to Secret can utilize private transactions, wallet balances, and the ability to use Secret's privacy-preserving dApps! To gain all of these benefits, wrap your tokens today.
Onenet Debuts Bushi Trailer
Earlier this month, Web3 gaming platform Onenet dropped tons of alpha about their first game, Bushi. Bushi is a third-person shooter that integrates Web3 elements into traditional gaming, creating an on-ramp for gamers to try this new technology!
Bushi's goal is to be the gaming hub for Web3, providing all the tools needed to have a seamless gaming experience. Gone are the days of using separate currencies, wallets, and platforms to play Web3 games; Onenet provides all those tools in a one-stop-shop unique for blockchain-powered gaming.
By utilizing Secret Network's technology, onenet has emphasized privacy and security for players by never requiring, storing, or having access to any sensitive information. Privacy is a standard for Onenet and will always be a focal point for the product, making Secret Network the perfect home for Onenet and Bushi.
Want to learn more? Check out a recording of Onenet's Secret Spaces!
Guy Zyskind's Secret Journey
SCRT Labs CEO Guy Zyskind joined danku_r to talk about his journey into the Web3 space and why privacy technology matters so much to him! Guy goes into the history of Secret Network, his overall vision for privacy in Web3, NFT collaborations with some incredible filmmakers, and his goals for the future of Secret Network.

This interview was a great conversation that covered a wide array of topics. Curious? Check out the full interview to learn more about both Guy and Secret!
Shinobi Beta Starts
Shinobi Protocol, a trustless BTC to SCRT bridge, announced the start of its second beta test on July 20th. The arrival of this beta is a massive development for Secret, allowing Bitcoin contracts to live on the Secret chain!

There's still time to get in on the beta and help shape Shinobi's future! For quick step-by-step instructions on participating, head to Shinobi's Medium article, or jump right into the beta!
Terra Builders Fund
It may be a bear market, but that won't stop us from building. If you were developing on Terra, we're here to help. After community proposal #98 passed, we now have a 2M $SCRT fund for extraordinary Terra projects to help you use Secret Network in your app! This fund is also open to members of the Secret ecosystem affected by the UST collapse.
We're excited about this opportunity to help dApp developers find a home to build and are eager to see what the future holds. Apply today!
What's Next for Secret?
Thanks for reading through this monthly update!
If this blog inspired you to get more involved with Secret Network, join our community of privacy pioneers. If you're a dev interested in building your own Secret Apps, check out our developer resources and learn how you can get funding to support your projects!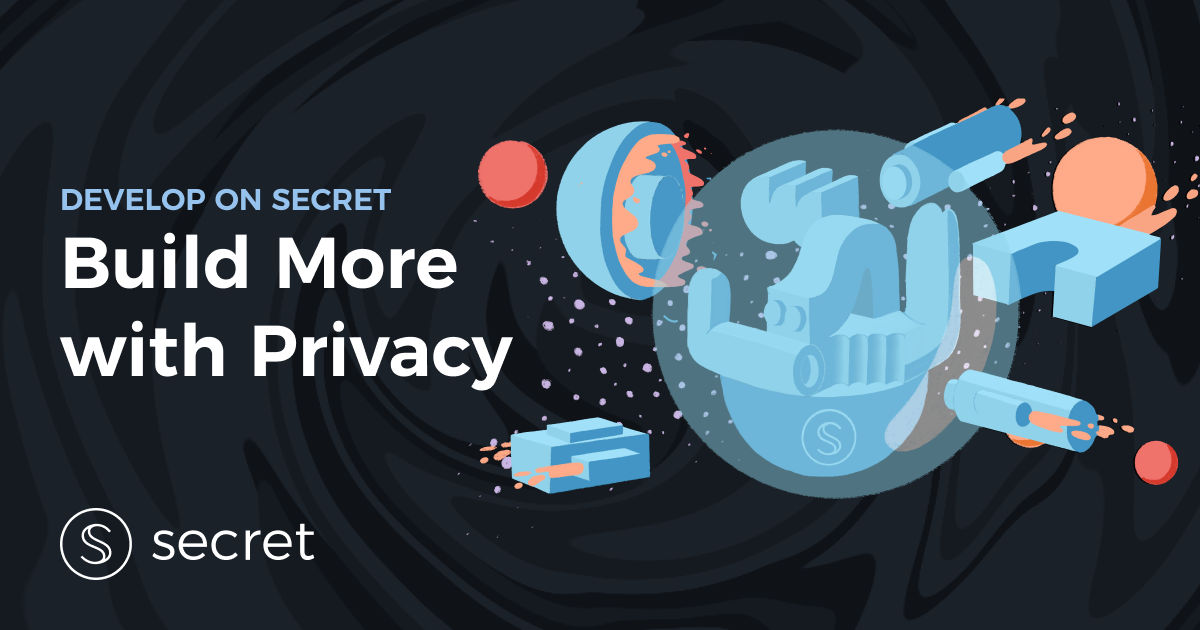 If you're anyone passionate about ensuring Web3 users has the data privacy protections they need and deserve, become a Secret Agent! It is our mission to make sure the decentralized web we're building is one that genuinely empowers - and one that is accessible to all. From awareness and education to international growth and university relations, there are many ways to help expand the Secret ecosystem and the global availability of privacy technologies in Web3.
Check out the Secret Agents program and join one of the best and most committed communities in the blockchain space!
Onwards and upwards!