Hello to the Secret community!
Thanks for joining us as we take a look back at last month's Secret news. August wasn't just a busy month for Secret Network, but also for several projects and people within our ecosystem.  From launching The Secret Agency to announcing new upgrades, there's a lot of news to review! Read on to get the complete recap.
Launching The Secret Agency
The Secret Agents program that has brought so many to the Secret ecosystem has been reloaded, retooled, and now relaunched as The Secret Agency.

The Secret Agency provides a new and more engaging onboarding experience that allows new Agents to find the area of the ecosystem they can best contribute to - and lets them start contributing to working groups immediately!

Upon entering the program, Agents are taken to a specialized portal and given all the most relevant information they need to be successful in the Secret ecosystem, including educating them on the basics of Secret Network. Once Agents complete the initial part of the program, they unlock secret Discord channels within the Secret Network server where they can work together to make friends, create impact, and receive opportunities!

Other significant changes include:
The introduction of nine working groups, each of which specializes in  supporting critical network efforts.
An improved Agent rank system, with the chance for Agents to gain points towards new levels and cool perks. The more you do for the Agency, the higher your rank. The higher your rank, the cooler your perks!
A weekly onboarding session for new Agents every Thursday at 16:00 UTC (12:00 US ET)
More surprises to come!
Want to learn more about The Secret Agency and these changes? Read the full blog for more details! Or get involved and join today!
Shockwave Delta Announced
Shockwaves continued through the Secretverse by announcing the latest development upgrade, Shockwave Delta! The Greek letter delta represents a transition and will serve as the bridge that will take us from Shockwave Alpha to our final Shockwave upgrade, Omega.

Shockwave Alpha launched in May and brought significant upgrades to the network. Delta is picking up where Alpha left off, bringing even more significant improvements to querying times and network events. But that's not the only change that Delta will bring.

CosmWasm, the smart contracting platform serving the Cosmos, is getting an upgrade. Secret Network is currently running CosmWasm v0.10, shortly released after Secret went to mainnet. Since then, much of the Cosmos has started to use the latest version, CosmWasm v1.0. Adopting this contract standard will maximize Secret's interoperability.

For all of the details on Shockwave Delta, read the entire blog.
Secret Wallets Go Mobile
It's official! Fina.cash has released the first $SCRT mobile wallet! Now there's a mobile wallet that can work with awesome Secret dApps like Sienna, Stashh, and others.

This news followed a recent announcement that Secret's Ledger app was audited by the Ledger team and can now confidently be used to store your $SCRT.

Additionally, SCRT Labs' very own Assaf Morami is working on bringing Metamask compatability to Secret Network, and Starshell has released a mobile beta! With these four announcements plus Secret's push towards IBC interoperability with Shockwave Delta, there's certainly LOTS of momentum for the network.

Interested in checking out the Fina.cash wallet? Download it on the Apple Store or Google Play!
Beyond ZK: Part One
SCRT Labs CEO and Secret Network founder Guy Zyskind released part one of an illuminating blog where he tackles common misconceptions about computational privacy in Web3.

In this multiple-part series, Guy sets the record straight on the strengths and weaknesses of various privacy technologies, the current landscape of solutions, and why Secret has chosen our particular pragmatic and practical approach to privacy.
Part One lays out the problems facing transparent blockchain technology and how this problem is showing itself as Web3 chases global adoption. Want to read about Guy's ideas on different cryptographic privacy solutions? Keep your eyes on our Twitter for Part Two!
Tor Bair Talks Tornado Cash
"Criminals drive on highways. We don't go after the infrastructure; we go after the actual criminal actors."

Secret Foundation Founder Tor Bair got a chance to share his thoughts on the Tornado Cash sanctions with CoinDesk. He talked about the potentially "chilling effect" these actions could have on privacy-focused tools. Check out the full interview to hear Tor speak about the implications of this recent decision.

But that's not where the Tornado Cash discussion ended. Tor also joined NYM and Manta Network for a Twitter Space to talk about the fallout from the Tornado Cash sanctions. They discussed the implications of sanctioning a tool and the potential legal fallout to come. The conversation also examined overarching privacy concerns while examining how privacy fell out of focus during blockchain's early development.

Listen to the Space to learn more!
Secret Chicago Happy Hour
Secrets travel, this time to Chicago!

On August 12, we held a Secret Network happy hour meet-up, giving local Secret Agents a chance to hang out, talk web3 privacy, and eat some delicious pizza. Thanks to everyone who came out!
With all of the recent news on Web3 privacy, this meet-up gave us a chance to examine the state of Web3 privacy and catch up with some Chicago-based projects. Want to get involved and attend events like this - or get rewarded for holding your own? Become a Secret Agent today to help us expand Secret's global presence!
What's Next for Secret?
Thanks for reading through this monthly update!
If this blog inspired you to get more involved with Secret Network, join our community of privacy pioneers. If you're a dev interested in building your own Secret Apps, check out our developer resources and learn how you can get funding to support your projects!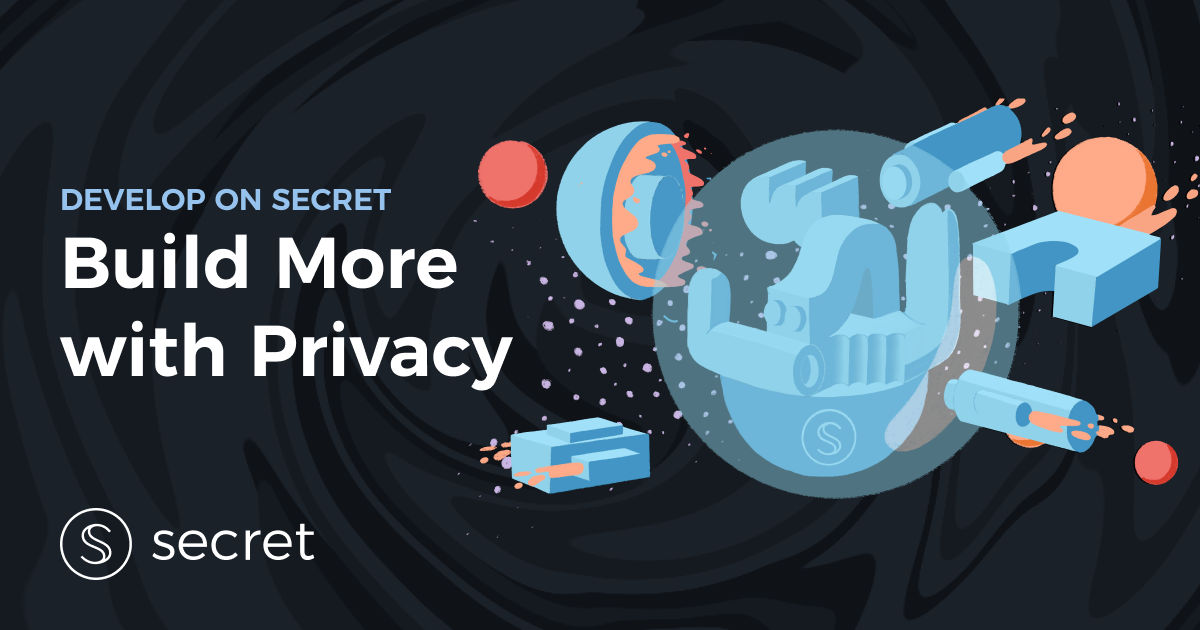 If you're anyone passionate about ensuring Web3 users has the data privacy protections they need and deserve, become a Secret Agent! It is our mission to make sure the decentralized web we're building is one that genuinely empowers - and one that is accessible to all. From awareness and education to international growth and university relations, there are many ways to help expand the Secret ecosystem and the global availability of privacy technologies in Web3.
Check out the Secret Agents program and join one of the best and most committed communities in the blockchain space!
Onwards and upwards!